Summer is in full swing, but that doesn't mean you have to let the summer heat get you down. Window treatments for your home allow you to have complete control over how much sunlight enters your home and, therefore, how much heat.
What window treatments are available to keep you cool this summer? Here we review some of the most popular options, features, and benefits of investing in window treatments for a more energy-efficient property and a more enjoyable summer!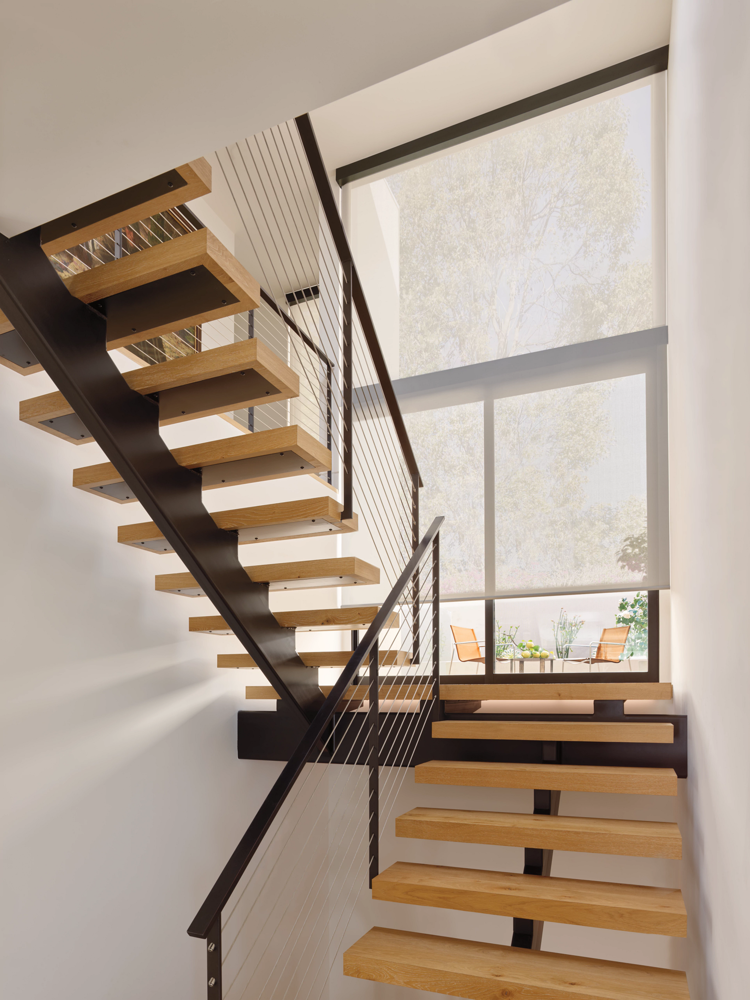 Hunter Douglas Designer Solar Shades
These designer shades stop harsh ultraviolet (UV) rays from entering your home, keeping your indoors cooler without straining your HVAC system.
In addition, these treatments come with sustainable fabrics, including Hunter Douglas's exclusive GreenScreen® Sea-Tex™ fabric collection. This unique, sustainable, and gorgeous fabric is made from recovered shoreline plastic and is the perfect choice for eco-conscious homeowners.
Hunter Douglas solar shades also come in your choice of fabric opacity to control the amount of sunlight that enters your home. Choose from five different options to customize your level of sun and maintain your view.
With elegant window treatments, you don't have to worry about untangling cords, Designer Solar Shades move smoothly and evenly with a continuous beaded loop.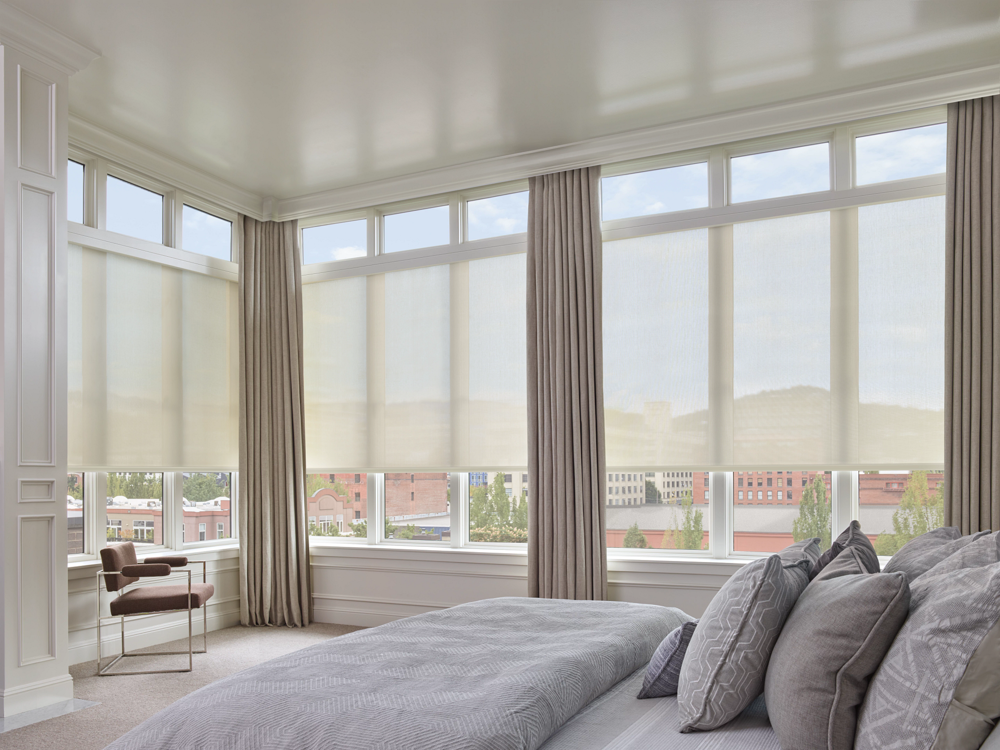 Add-Ons to Customize and Enhance Your Window Treatments
Designer Solar Shades, Dual Roller design which offers both light control and privacy in one window treatment.
With a Dual Roller design, two shades are overlapped. When both are down, you get privacy and light control, but if one is up, more light comes in. The Dual Roller design is perfect for homeowners that want light filtering or room darkening at a moment's notice.
You can also opt for decorative accents on your solar shades on the top or bottom for a truly customized look that allows your solar shades to blend seamlessly with your décor.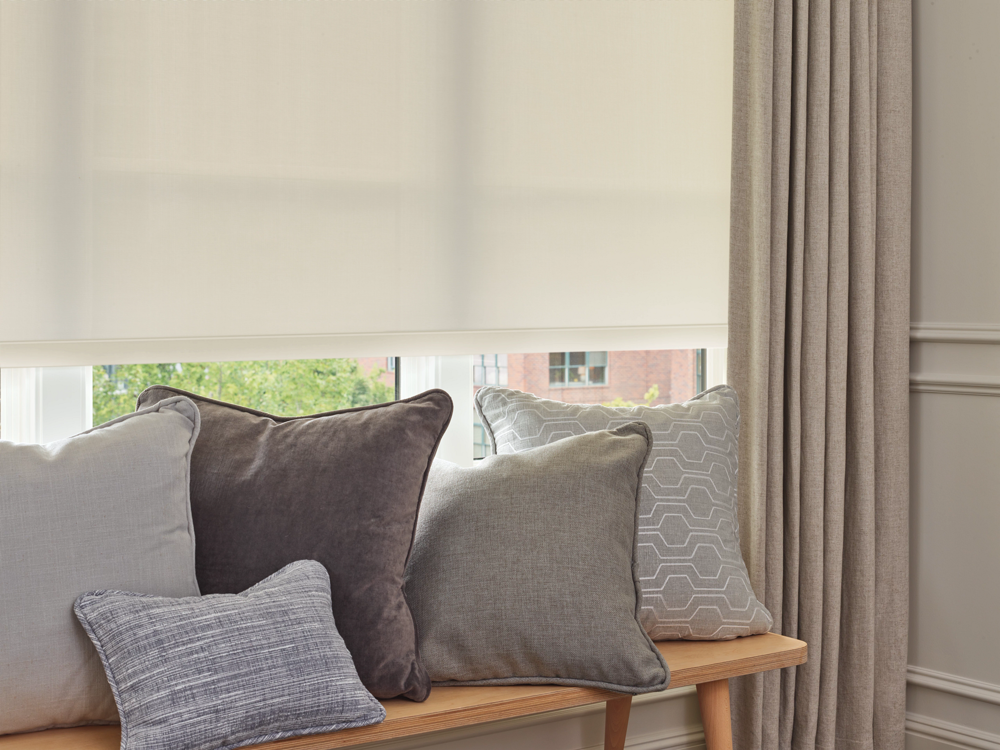 Benefits of Investing in Solar Shades
Window treatments that help filter light don't just look nice in a home. They have important energy and protective benefits, such as:
Energy efficiency. Solar shades are designed to block harmful UV rays from entering your indoor space, which reduces the need for air conditioning in the warmer months and lowers your energy costs while keeping your home naturally cooler.
Glare reduction. Window treatments such as solar shades reduce glare from the sun, which allows for more visibility and less eye strain, which can be especially beneficial in office spaces or rooms with large windows.
Privacy. Dual Roller solar shades from Hunter Douglas, you can still let natural light into your home while enjoying privacy.
UV ray protection. Solar shades block the sun's rays and keep your paint, flooring, cabinets, furniture, and décor safe from fading or sun damage, which can protect your most-loved items and prevent the need to refinish floors or paint your home frequently.
Sustainability. Window treatments help reduce reliance on home cooling and help conserve energy, allowing homeowners to enjoy an eco-friendly home and workspace in addition to lower energy bills.
In addition, window treatments for sun and heat control are simple to maintain and durable, allowing you to reap the benefits of window treatments for many seasons.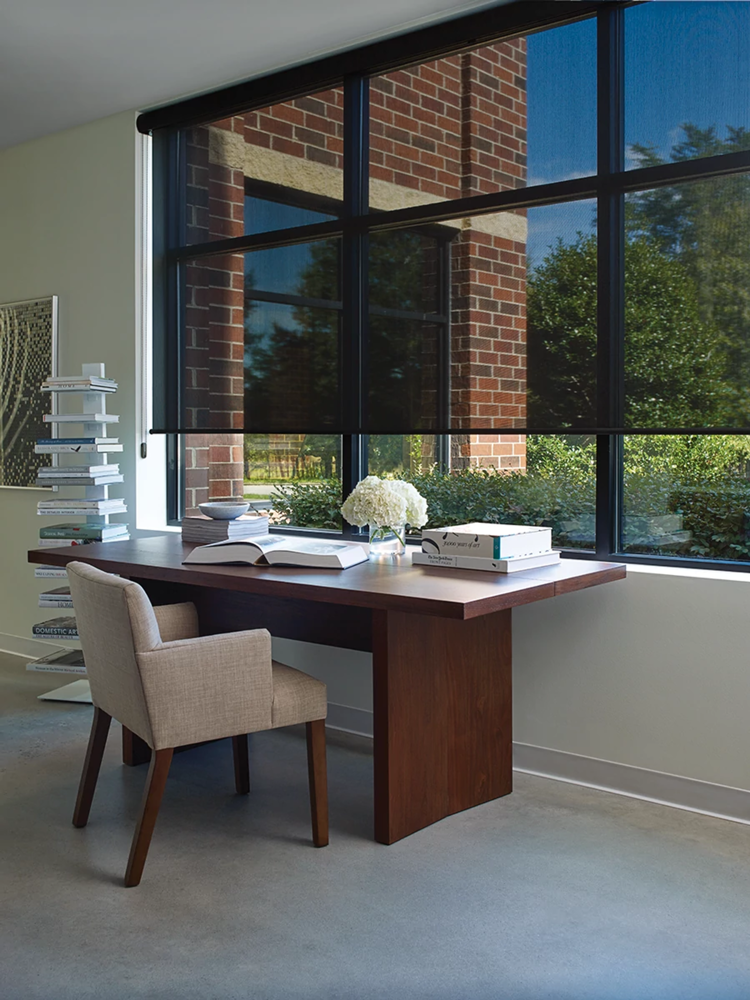 Schedule a Design Consultation
Are you ready to experience the benefits of window treatments to help improve your home's energy efficiency and make your indoor spaces cooler and more comfortable? If so, schedule a design consultation with our experienced team at Color Wheel today to get started!