Blinds and other window treatments with cords pose a serious risk to children and even pets to strangle themselves.
Although window treatments are often necessary to filter light, provide privacy, and prevent fading of flooring and furniture, it's imperative to ensure your home has safe window treatments if you have children and pets afoot.
Whether you have blinds you want to replace or are shopping for brand-new window treatments for your home, here's what you need to know about window treatments and child safety to protect your family.
Statistics About Children and Window Treatments
It can take less than a minute for a child to become unconscious after becoming tangled in a cord from blinds. As they can't breathe, they can't make noise to alert their caregivers when this happens. Even parents who diligently watch their pets or children should not assume their little ones are safe from strangulation.
Each year, nine children under the age of five die from strangulation in window blind cords. However, there are hundreds more incidents of children under the age of eight getting trapped in window blind cords and sustaining life-threatening and even permanent injuries.
Children or pets who get their heads stuck in the loop and pull the string in an effort to get out can quickly get stuck. Most often, these incidents occur when children are supposed to be napping or waking up from a nap.
How to Shop for Cordless Window Treatments
You can replace your corded blinds or shades with cordless window treatments to eliminate the risk that your child or pet would be hurt or killed in an accident involving the cords.
A good rule of thumb is that if you have window treatments manufactured before 2000, they should be replaced if you have children or pets in your home. Some cordless window treatments to consider include:
Cellular shades. Also called honeycomb shades, these blinds help provide better sound and energy insulation without cords.

Drapes. Drapes can be designed to pull back without a cord, allowing you to have cordless window treatments that are safer for kids and pets.

Motorized shades. Many shades can be motorized, meaning they don't need a cord and you can control them with a remote or even your smartphone.

Roller shades. Roller shades provide a minimalistic design and can be adjusted simply by pulling or pushing the bottom of the shade, no cord needed.

Shutters. Shutters are a stylish way to control the light in your home and provide privacy without cords. Shutters come in many different styles and finishes.
You can also look for the Best for Kids™ Certified label when shopping for window treatments. With this label, the manufacturer must have met specific criteria for child safety and have their products third-party tested before they can be approved. These products have no cords or accessible inner cords that create hazards, especially a loop.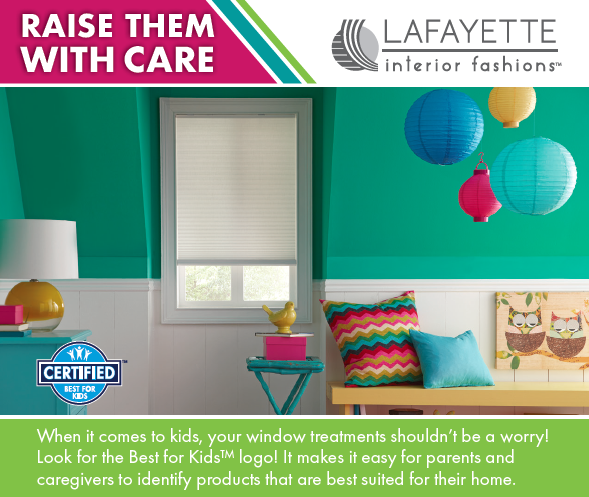 What to Do If You Cannot Replace Your Current Window Treatments
If your existing window treatments or coverings have cords and you cannot replace them, it's essential to take steps to minimize the risk of children or pets getting injured or killed.
First, keep blind cords as short as possible and out of reach of children. Remember that toddlers and older children can push furniture to climb up and reach cords even if you believe they can't access them. Therefore, moving furniture such as beds, cribs, sofas, and even toy boxes away from windows containing corded blinds is important.
You can also ensure any cord stops on the blinds are installed correctly, which will help reduce the cords from moving, so children and pets can't tighten the cords should they become trapped. Another option is to anchor cords to the floor or wall or to remove window treatments altogether until you can replace them with safer alternatives.
Learn More About Your Options With Color Wheel
Color Wheel offers a variety of cordless window treatments featuring Hunter Doulgas Window Fashions and Lafayette Interior Fashions .  Learn more about your cordless window treatment options from Color Wheel by contacting us today at (703) 356-8477 x3.