Choosing the right paint color for your home isn't easy. After all, many factors can affect paint color. You might choose a color you love at the store or online, but then hate the color once it's on your walls.
Two of the most important factors when it comes to paint color are lighting and pigment quality. Let's take a closer look at how each of these affects the color of your paint, as well as how they can help you choose the best hue for your most-loved spaces.
Light Changes the Way We See Color
Metamerism is when two colors look the same in one light but different in another. Colors can look similar under one light source, but how the paint reflects light influences how we see color, making them appear different under various light sources.
In the images below, Benjamin Moore Dream Whip 2174-60 on the upper wall and Mascarpone AF-20 on the wainscoting look different in natural light from the sun than in artificial lighting. Natural light can vary even in a single room, which is why the color may show up differently than you intended. Notice how the color change on the different angles.
Our team recommends making a large (about 18 by 24 inches) swatch of paint in different areas of your room, and even at different times a day, to observe the color.
Artificial Lighting                                                             Direct Sunlight                                                                  Overcast Sunlight
| | | |
| --- | --- | --- |
| | | |
Pigment Quality Affects Coverage and Color Longevity
In addition to lighting, the quality of the pigments used to tint paint also impact the color and how it shows up on your walls. In fact, pigment quality is one of the biggest factors to consider when choosing paint for your home.
Some brands use low-quality pigments, which don't provide as much coverage. This means you'll need more coats of paint to make your walls look even in color and hide imperfections.
High-quality paint brands like Benjamin Moore Paints and Farrow & Ball Paints have a better pigment quality to ensure rich, saturated color and better coverage.
Benjamin Moore's Aura Paint has Color Lock Technology that also resists fading, meaning the color you choose will retain its hue for many years. This technology also allows the paint to resist common damage, including scratches, scuff marks, streaking, and even mildew.
Farrow & Ball Paints also use higher-quality, more complex formulas to ensure even, beautiful color that lasts. With high-quality paints such as these, pigments are small enough to be encapsulated, meaning they are locked into the paint and resist fading and even rubbing off over time.
Farrow & Ball's Faded Terracotta, creates a warm and cozy retreat, changing as the sun sets in the late afternoon.
Notice the change from the left to right.
Here's a fun video about Benjamin Moore Paint Unmatchable colors.
Making Your Color Last in Any Lighting
Now that you've considered the lighting and the pigment quality of your paints, it's time to start painting. You can make your color last in any lighting by starting with a high-quality paint and properly prepping your surface.
Be sure to clean walls by wiping them down to remove dirt and dust before painting. Once the wall is dry, you can start by doing a layer of primer. Primer ensures an even, lasting color for your walls and provides improved color consistency.
Once the primer is dry, you are ready for your paint. Always apply two coats of your chosen color to ensure the true shade comes out and provides ample coverage for your walls. Your color will last for years before you need to consider repainting.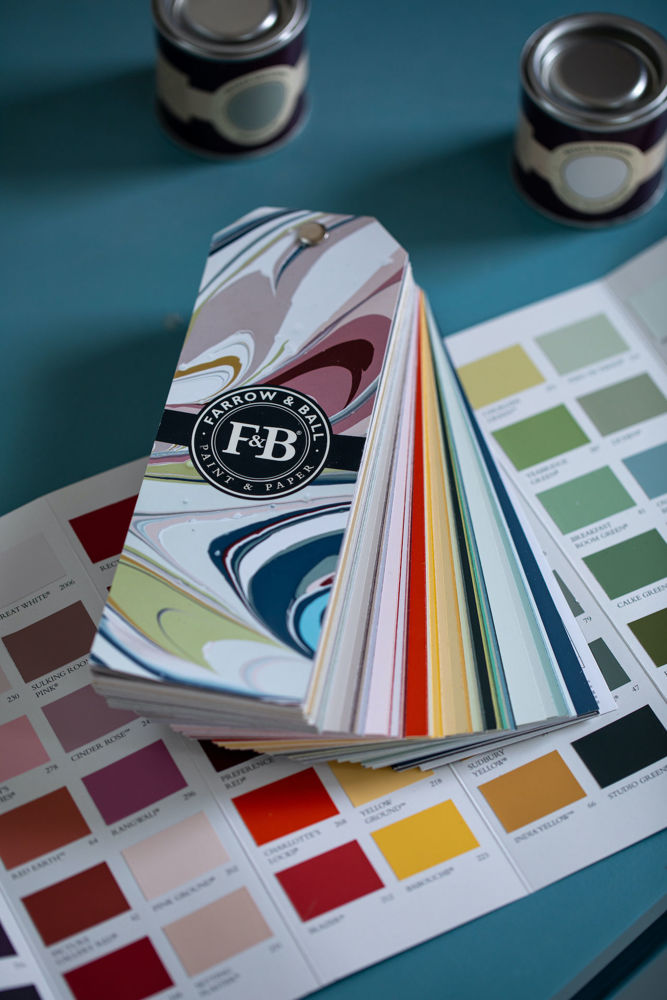 Explore Your Paint Options With Color Wheel
Start exploring your paint options with Color Wheel. We can help you match an existing paint color with our spectrophotometeor assist you in choosing a completely new color for your spaces.
In-store and On-site Paint Color Consultation available by appointment.
Call 703-356-8477 x 3 for more details.
Schedule an appointment today!